Millwood Public Schools Band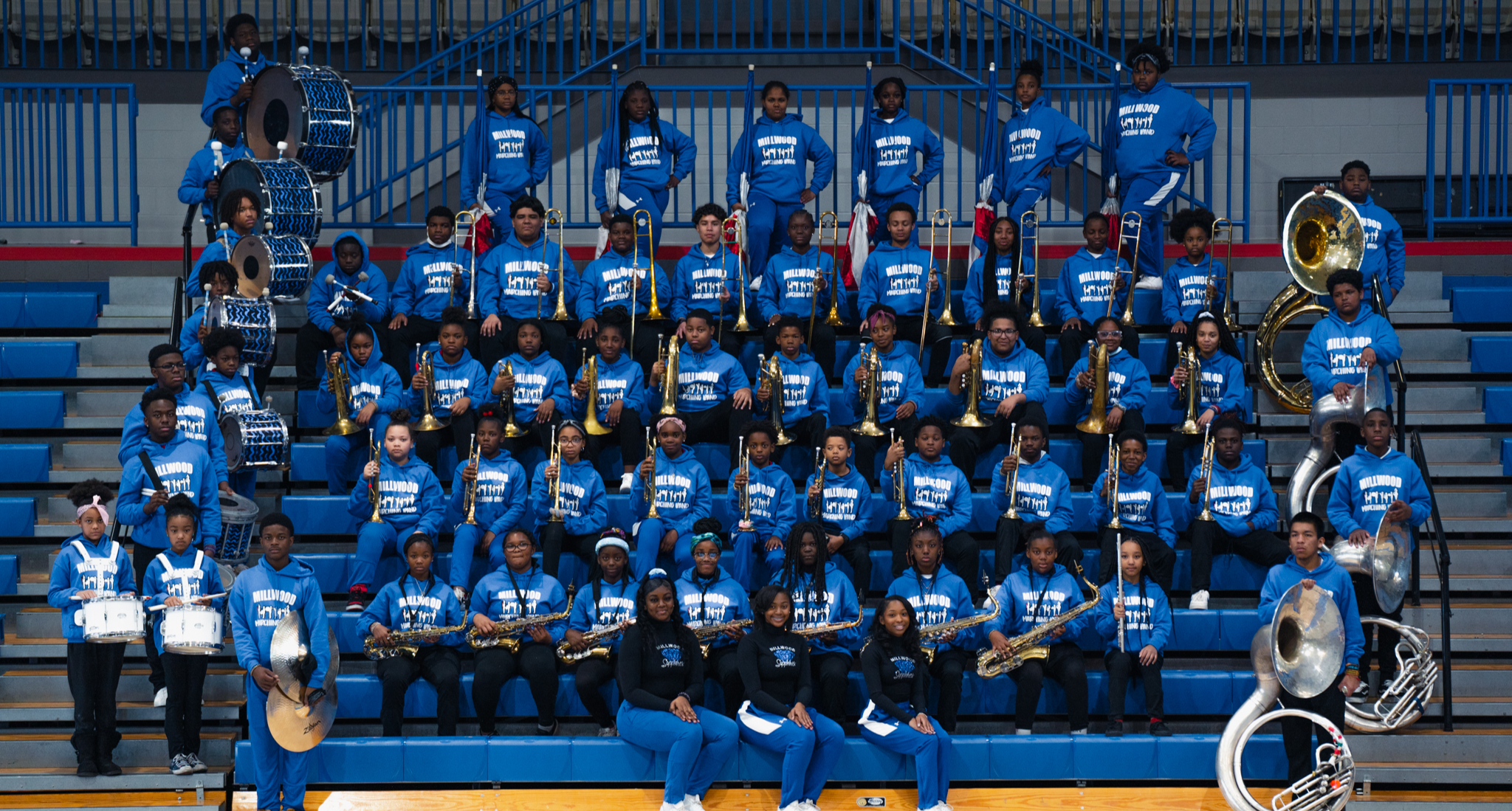 The Millwood Marching Band consists of students from Millwood Arts Academy and Millwood High School. Our band program has been in effect since Millwood High School's inception in 1972
Dear Millwood Band Supporters and Sponsors,
The Millwood Band comprised of both Millwood Middle School and Millwood High School is gearing up for the 2022-2023 school year. These diligent musicians are now laying the groundwork for an exciting and rewarding year full of performances. We have many events scheduled and look forward to performing for you in Falcon half-time shows, concerts, and distinguished band competitions at concerts throughout Oklahoma, Texas, and Mississippi.
Millwood's Marching Band has enjoyed extraordinary success over the past several seasons, improving tremendously with every year. Our young men and women have achieved much over the years, including performing at the Cowboys of Color Rodeo, Oklahoma Motorcycle Association Annual Bike Show, Cleats For Kids Annual Fundraiser, Mid-West City Armed Forces Parade, Martin Luther King Battle of the Bands, OKC GOVT Rally, and the One Mile March to the Polls. The Millwood Band continues to be one of the premier bands in the area, providing students with the knowledge and performance experiences needed to be a successful, young musician.
As you may imagine, developing and presenting a winning and successful performance is a very challenging process. Unfortunately, it is a very expensive undertaking as well. As is the case with many school-related organizations, our funds rely heavily on the generous donations of our sponsors. As our bands continue to grow and improve, the financial demands increase. Additional funds are needed for transportation, staffing, design, equipment, music, and all of the operational aspects of the organization.
Students are asked to be involved in many fundraising activities throughout the year; however, many of these fundraisers give 50% or less of the profits to the group. One of the most effective ways for our organization to raise funds is through sponsorships. Sponsoring the band ensures that 100% of what you give goes directly and immediately toward fulfilling the financial needs of our program. Your donation will be tax-deductible, and you will help ensure that every student has an incredible experience within the Millwood Band. Any donation, no matter how large or small, is greatly appreciated.
We invite you to review the enclosed sponsorship form and consider supporting our effort to keep the Millwood High School Band a vibrant part of community life in Oklahoma City. Several sponsorship levels are available, and all donations are tax-deductible.
On behalf of the members of the Millwood Band, thank you in advance for your generous support. We greatly appreciate our returning sponsors and welcome our new sponsors to the Millwood Band Family and look forward to entertaining you. Don't forget to look for your name or company name on our sponsor board as you enter the main gate of the football stadium. We appreciate your consideration and look forward to hearing from you soon.
Best Regards,
Davaro Wilson, Band Director
Menes Ray, Assistant Band Director
Please select your sponsorship level from the descriptions presented below. Complete this form and return with your payment to 6724 N. Martin Luther King Avenue, OKC, OK 73111 or give it to the band member that provided you with this letter. Make the check or money order payable to: Millwood Public Schools / Memo: Band
ELITE LEVEL: Transportation Sponsor - $350,000.00 & UP
As Elite Level Sponsors, you will be recognized by:
Being identified as an Elite Sponsor on the band t-shirt

Being announced as an Elite Sponsor at all home games, either before or after the band performs

Being identified as an Elite Sponsor on our equipment truck and/or trailer

Being identified as an Elite Sponsor on a billboard listing our supporters, which will be displayed at home football games

Being recognized as an Elite Sponsor in our printed programs and on the sponsor page on our website

Being recognized as an Elite Sponsor on the front page of our website (www.millwoodps.org)
PLATINUM LEVEL: Instrument Sponsor - $100,000.00 & UP
As Platinum Level Sponsors, you will be recognized by:
Being identified as a Platinum Sponsor on the band t-shirt

Being announced as a Platinum Sponsor at all home games, either before or after the band performs

Being identified as a Platinum Sponsor on a billboard listing our supporters, which will be displayed at home football games

Being recognized as a Platinum Sponsor in our printed programs and on the sponsor page on our website

Being recognized as a Platinum Sponsor on the front page of our website (www.millwoodps.org)
GOLD LEVEL: Uniform Sponsor - $50,000.00 & UP
As Gold Level Sponsors, you will be recognized by:
Being announced as a Gold Sponsor at all home games, either before or after the band performs

Being identified as a Gold Sponsor on a billboard listing our supporters, which will be displayed at home football games

Being recognized as a Gold Sponsor in our printed programs and on the sponsor page on our website

Being recognized as a Gold Sponsor on the front page of our website (www.millwoodps.org)
SILVER LEVEL - $1000.00 & UP
As Silver Level Sponsors, you will be recognized by:
Being announced as a Silver Sponsor at all home games, either before or after the band performs

Being identified as a Silver Sponsor on a billboard listing our supporters, which will be displayed at home football games

Being recognized as a Silver Sponsor in our printed programs and on the sponsor page on our website

Being recognized as a Silver Sponsor on the front page of our website (www.millwoodps.org)
RUBY LEVEL - $500.00
As Ruby Level Sponsors, you will be recognized by:
Being recognized as a Ruby Sponsor in our printed programs and on the sponsor page on our website

Being recognized as a Ruby Sponsor on the front page of our website (www.millwoodps.org)
SAPPHIRE LEVEL - $250.00
As Sapphire Level Sponsors, you will be recognized by:
Being recognized as a Sapphire Sponsor in our printed programs and on the sponsor page on our website
BUSINESS BASIC LEVEL - $100.00
As Business Sponsors, you will be recognized by:
Being recognized as a Sponsor in our printed programs and on the sponsor page on our website
FAMILY LEVEL - $50.00
As Family Sponsors, you will be recognized by:
Being recognized as a Sponsor in our printed programs and on the sponsor page on our website
SCHOLARSHIP DONOR LEVEL – CUSTOM DONATION
As Scholarship Donor, you will be recognized by:
Being recognized as a Scholarship Donor in our printed programs and on the sponsor page on our website